Portlets
While in the edit mode of the portal window, you will notice that each portlet on your page now has several options to customize. A drop down menu option for changing your decorator of that individual portlet, an icon bar

for removing the portlet or arrows for moving the portlet one location spot in the direction of the arrow. Menus will not be displayed for resources that are not accessible.
Each portlet can have it's own decorator that will override the decorator selected in the portal window section. However, choosing a new theme in the Page/Folder Customizer will change all portlets to that theme regardless if they have been given individual themes. You will need to change the individual portlet themes again to have the portlets display their own if you have set the theme globally.

Moving Portlets
Depending upon their current placement in the window, arrows will be available to move your portlets across columns or up and down within a column. Portlets will auto-adjust for each move.
Before Clicking on Right Arrow of Calendar Portlet.

After Clicking on Right Arrow of Calendar Portlet.

Removing Portlets
To remove a portlet from your window, click on the

icon of the portlet you wish to remove. The remaining portlets will adjust to fill the space if any are lower in the same column.
Adding Portlets
Click on Add Portlet in the upper right.

The Portlet Selector shows the portlets that are available to be added.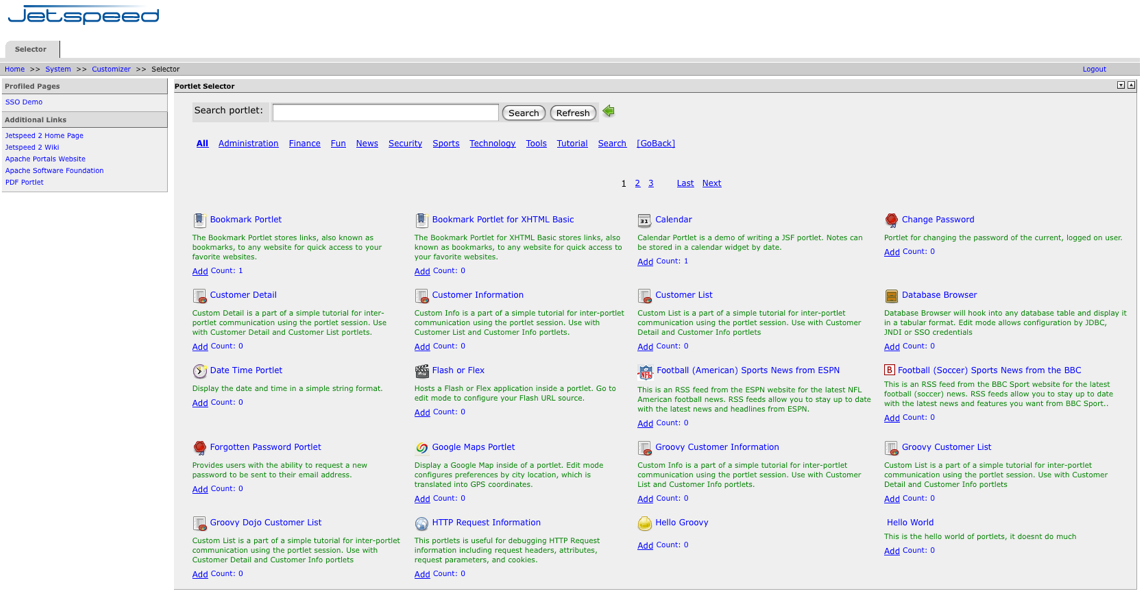 There are multiple pages that you may navigate through by using the numbered links.

There is a search field where you can search for a portlet by name.

The portlets are separated into categories as well.

The portlet selector displays the name of the portlet, a brief description, an Add option and a counter of how many instances of this portlet are currently running. Clicking on the Add link will increase the counter by 1, but no other visible changes will occur at this time.

Clicking on the [GoBack] option or arrow will bring you to the original customization window where you can see your portlets have been added to your portlet window. If you have changed your decorator from the default decorator, you may find that your new portlets are using a different decorator rather than the decorator you are now using.
You will need to return at one point to the original customization window before you see the restore option to leave the configuration area.